Beguildy Community Council is the elected council for the upper Teme valley area above Knighton. It includes the villages of Knucklas, Beguildy and Felindre.
The Council meets, normally, on the second Tuesday of each month at 7.15pm for 7.30 start, alternately at Knucklas Community Centre and Felindre Village Hall. Remarks from members of the public are welcomed before the meeting starts.
Audit notice 2019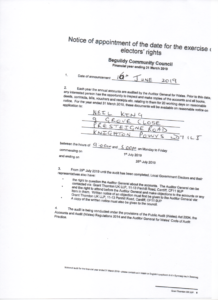 Edward Harris
The Hendre
Felindre
LD7 1YT
01547 510644
edward@thehendre.co.uk
Avril Hoyle
Belmont Cottage
Knucklas
LD7 1PP
01547 529244
avril.hoyle@btinternet.com
Ann Jones
26 Glyndwr
Knucklas
LD7 1RR
01547 529016
apjones61@yahoo.co.uk
Micheal A Collins
23 Castle Green
Knucklas
Knighton
01547528058
07857614864
mickandyvette@tiscali.co.uk
Michael Morgan
The Farm
Dutlas
LD7 1RH
01547 510244
mikemorgan40@hotmail.co.uk
Paul Barrett
The Nest
Felindre
LD7 1YR
01547 510380/511033
tree_line@btinternet.com
Chris Thomas
Bryndraenog
Beguildy
01547 510226
mthomas226@yahoo.co.uk
Gwyn Evans
Meldene
Dutlas
LD7 1YA
01547 510278
evansmeldene@aol.com
Andy Kenyon-Wade
The Cuckoos Nest
Knucklas
LD7 1PL
01547 529786
andy@kenyonwade.plus.com
Clerk:
Neil King 01547 520536
info@beguildycc.knucklas.org.uk
9 Grove Close
Presteigne Road
Knighton
LD7 1LJ
For info:
County Councillor –
Knucklas Community Centre – Avril Hoyle – see above.
Felindre Community Centre – Barrie Nickolls 01547 510678
Bugeildy?
There is an interesting note on the meaning of Beguildy/Bugeildy here – Bugeildy
Who lives here?
The latest census data can be seen here Beguildy Census